Children's Dentistry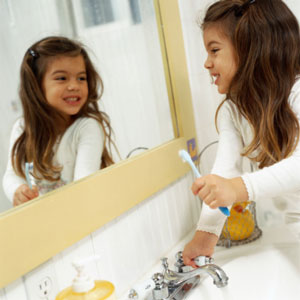 A great first experience at the dental office helps children feel more comfortable seeing their dentist in the future.
Our visits are focused on education. We provide the information you and your child need to help them keep their teeth healthy for life. With better preventative care, your child can lower their chances of tooth decay, orthodontic concerns and dental emergencies.
Working at Your Child's Pace
Your child's first appointment is one where we familiarise them with the environment. We'll use a camera to show them their teeth, talk to them about how to brush, floss and choose healthy foods. If they're comfortable, we'll also polish their teeth and use a small mirror to help them get used to the examination process.
After the clean, we'll apply fluoride gel to strengthen their developing enamel and help make it more resistant to things like acids or bacteria.
Early preventative care and annual checkups help your family avoid the risks of painful dental emergencies, which can make for a scary first appointment. Plan to bring your child in for a visit at least once a year.
Children are especially prone to dental emergencies. Especially if they're active and involved in sports. If your child breaks a tooth or is in pain, we'll take a small X-ray and discuss the best treatment to restore their smile.
Additionally, we'll discuss different treatment delivery methods to ensure your child's comfort. It may be that an oral sedative or nitrous oxide gas (happy gas) is ideal to help them relax. We also have a television on the ceiling over the chair, making it easy to distract your child with a movie or cartoon. If severe or complex treatment is required, we have the ability to take them to the hospital to perform all of the procedures at one time.
The deep grooves on the back teeth are especially prone to accumulating plaque and food debris, placing them at a higher risk of decay. To help your child be more efficient with their brushing – and lower their chances of developing a cavity – we recommend placing fissure sealants in these areas. A sealant only takes a few minutes to apply and blocks out bacteria. For best results, we recommend sealants on the permanent molars (which erupt around the ages of 6 and 12, respectively).
Your child's oral anatomy is constantly evolving and growing at a rapid pace. Their skeletal features and biting patterns play a direct role on their adult tooth alignment, speech patterns, diet and self-confidence. Intercepting orofacial growth patterns at an early age allows us to prevent complications and major orthodontic treatments in the future.
On average, it's best to have your child's bite evaluated for orthodontic concerns by the time they turn 7. However, we can screen for several orofacial structure issues at an even earlier age.
Here for Your Family
Are you looking for Children's Dentistry Port Hedland? Our family practice cares for all ages! Contact us today to schedule.
CONTACT US »

Children's Dentistry Port Hedland, South Hedland, Wedgefield, Pilbara WA | (08) 9173-5838