Dental Implants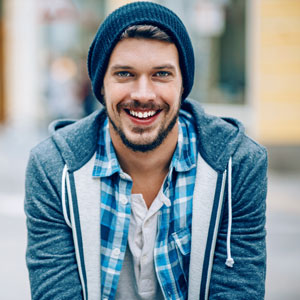 Dental implants are one of the best ways to replace missing teeth. Implants are stand-alone restorations that are non-invasive to their neighbours. As such, they're preferred over conventional treatments like dental bridges. Plus, once they're installed, they're a permanent part of your smile. A healthy implant has the potential to last the rest of your life.
Single Missing Teeth
Any time a tooth is missing it creates extra space in your bite. This gap can lead to shifting in your adjacent teeth, transforming your entire smile. By replacing your tooth with a dental implant, we can preserve healthy tooth spacing and prevent crooked teeth.
Individual implants do not require cutting down neighbouring teeth to place a bridge. They are stand-alone restorations that function like a natural tooth. It's like having your smile back to normal all over again. Implants are the minimally-invasive alternative to conventional dental bridges and partial dentures.
All-on-4 Implants
Are you missing all of your teeth? Do you need to have your remaining teeth extracted? We can use as few as four dental implants to support a full-arch, "All-on-4″ style restoration. With an All-on-4 you get to enjoy a permanent smile rehabilitation without a removable denture. And since implants are so durable, there's no need to place one in the location of each missing tooth; they work together in a set.
Most of our dental implants are crafted out of durable titanium. Titanium is a biocompatible, non-allergenic material that's easily accepted by the body. However, there are some types of ceramic dental implants now available on the market. Since these newer designs are still being researched, we prefer to utilise proven titanium designs for our patients.
If you have bone loss, active periodontal disease or are a smoker, dental implants may not be right for you. Bone grafting may be possible to strengthen that part of your mouth enough to support a dental implant. Unfortunately, smoking and periodontal disease can delay healing and integration. Please be sure to discuss your medical history with us to ensure you're properly qualified before investing in dental implant therapy.
The average dental implant treatment takes 2-3 appointments to complete. If you're planning to have extractions, we can pair your implant placement or bone graft with the same procedure, reducing your time in the dental office.
At your first appointment we'll place the implant and a graft if needed. After the implant integrates with your bone, we'll uncover the implant and install an abutment. Then we'll take a mould of your teeth to design the customised crown, bridge or All-on-4 appliance. When it's ready, we'll attach it to the implant abutments and your smile transformation will be complete!
Following the implant installation, you may have some minor tenderness. Take care to eat soft foods during the first few days and take an over-the-counter pain reliever as needed. Rinsing with warm saltwater will help to reduce any inflammation. You should be able to return to work within the next couple of days.
If you prefer, we can complete your implant procedure with IV sedation or another form of sedation.
Ongoing Implant Maintenance
To help your implants last as long as possible, treat them like natural teeth. Plan to brush and floss them daily and schedule routine checkups and cleans. If you have any signs of gum inflammation, let us know as soon as possible.
Complimentary Dental Implant Consultations
Considering dental implants Port Hedland? Enjoy a commitment-free consultation. Request yours today!
CONTACT US »

Dental Implants Port Hedland, South Hedland, Wedgefield, Pilbara WA | (08) 9173-5838