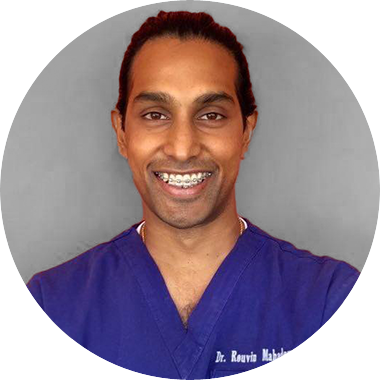 Meet Dr Rouvin Mahadeva
Dentist Dr Rouvin Mahadeva started practicing in 2005. He finds dentistry most satisfying by creating beautiful smiles and having an artistic flair to his work.
A Passion for Art and Creating Smiles
Dr Rouvin realised during his training in becoming a dentist that he loves to work with his hands. He believes there is a perfect balance of art and science when it comes to dental surgery and diagnosis.
The best part about it is the instant gratification; you can create a result straight away.
He fell into dentistry and fell in love with it.
Education and Training
Dr Rouvin is a trained and qualified general dentist since 2005. He is most interested in the following:
Implant dentistry
Reconstructive dentistry
Aesthetics
Children's dental
Dentofacial orthopaedics
He is an active member of the Australian Dental Association and is constantly updating himself on new technologies and techniques in the industry.
OUR SERVICES »
Outside of the Practice
When not in the office, Dr Rouvin enjoys sports of all types and yoga. He also loves music and exploring the great outdoors.
Book an Appointment
Contact us to schedule your appointment with Dr Rouvin today! Health funds accepted and fast on-the-spot claims through our HICAPs machine.

Dr. Rouvin Mahadeva | (08) 9173-5838