Sedation for Nervous Patients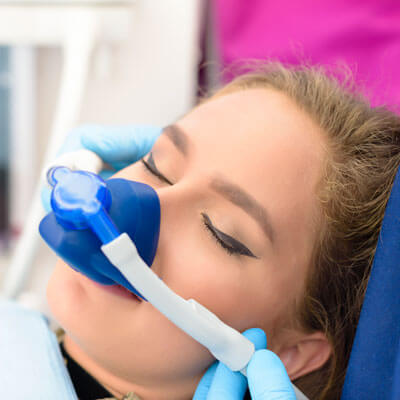 We are one of the only dental practices in the area to offer dental sedation for anxious and nervous patients. Depending on your level of comfort, you can choose between a variety of sedation levels to find the one that's best for your needs.
Nitrous Oxide (Laughing Gas)
Inhalation sedation provides light analgesic relief without altering your consciousness. Although you're completely alert with happy gas, you won't care as much about what's going on during the visit. The gentle relief helps you relax throughout even the most routine of procedures.
Oral Sedation
This type of sedation is delivered via an oral medication that you take at the time of your appointment. After about an hour, you'll feel extremely drowsy. Oral sedatives typically cause an amnesic effect, meaning you're unlikely to remember anything about your visit that day.
Twilight Sedation
By partnering with a local anaesthetist, we can provide twilight sedation (also called conscious sedation or IV sedation) for our patients. This deeper level of sedation provides maximum comfort, regardless of the complexity of your treatment needs.
Hospital Sedation
Do you need to have multiple procedures completed during the same day? Are you planning extensive full mouth rehabilitation such as numerous dental extractions and implants placed? General anaesthesia in a hospital allows you to complete everything at once while you feel as if you're sleeping throughout the entire process.
Choosing the Best Type of Sedation
During your initial consultation, we'll discuss what your concerns, needs and goals are. After reviewing your medical history, we'll suggest the most appropriate types of sedation given your oral health needs. Together, we'll work to select the best dental sedative for your unique situation.
How Can We Help?
Our team is committed to providing a comfortable and relaxing experience for you and your family. Find out if dental sedation Port Hedland is right for you. Contact us today.
CONTACT US »

Sedation Dentistry Port Hedland, South Hedland, Wedgefield, Pilbara WA | (08) 9173-5838