Teeth Whitening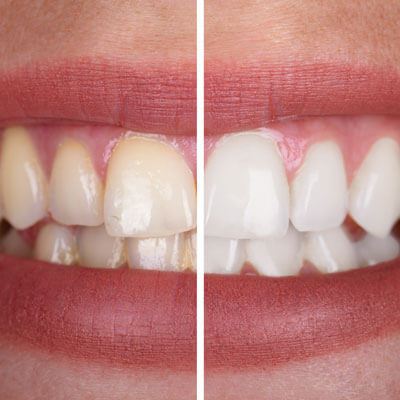 Dreaming of a brighter smile? Whitening your teeth can help them look younger and healthier than they have in years. If you're thinking of ways to enhance your best accessory, lightening the colour of your teeth is one of the most efficient and affordable options to choose from.
Laser Bleaching Technology
Our practice uses state-of-the-art teeth whitening technology for a safe, predictable experience. Biolase laser whitening offers some of the best results in the dental industry. With laser whitening we can drastically whiten your teeth in just under an hour.
Laser Whitening: What to Expect
When you have your teeth whitened with a dental laser, we'll place a protective coating on your gum tissues to block out any sensitivity. The barrier ensures a pain-free experience and no gingival irritation. The typical laser whitening visit takes about 45 minutes to complete.
For the best results, we recommend following up with home bleaching. Top off as needed to keep your smile white for years to come.
Take Home Whitening Kits
If you prefer to whiten your teeth at home, we can fit you with a custom set of moulded trays. Simply stop by to have an impression taken. In a few days your trays will be ready for pickup. Apply the bleaching gel inside of the trays as directed and wear them for about an hour a day. You'll see full results in 10-14 days.
Keep your whitening trays on hand to top off as needed.
Before you start a whitening treatment, we'll need to examine your teeth and gums to make sure they're healthy. A thorough dental checkup will be required as well as possible X-rays. Assuming there is no active tooth decay or gum disease, you'll be ready to move on to the next step.
People who enjoy dark coloured foods or liquids are especially prone to dental stain. If changing your dietary habits isn't an option, teeth whitening may not be right for you.
If you're considering other types of cosmetic dentistry such as veneers or porcelain crowns, we recommend whitening your adjacent teeth first. That way your entire smile will match at its brightest colour possible.
During teeth whitening treatments, your tooth enamel is prone to soaking up stain particles. As such, we recommend avoiding any foods or beverages that could stain a white T-shirt for the first two weeks. Examples include red wine, tea or pomegranates.
Consider topping off after each checkup and clean, to whiten your smile back to your desired level of brightness.
If you tend to have sensitive teeth, use Sensodyne toothpaste or something similar each day. For best results use it leading up to your whitening session and for at least two weeks afterward.
Up to 50% Off Whitening Special
We're currently offering a discount on professional teeth whitening treatments. Be sure to mention our special when you schedule an appointment.
Complementary Whitening Consultations
Considering teeth whitening Port Hedland or another type of cosmetic dental procedure? Contact Port Hedland Dental Surgery today to request a complementary evaluation.
CONTACT US »

Teeth Whitening Port Hedland, South Hedland, Wedgefield, Pilbara WA | (08) 9173-5838